What is the Etch Community?
The Etch Community is designed to give digital professionals a place to belong, and a platform to grow. As champions of the partner model, Etch believe in the power of people for business growth. Together, we will thrive. The Etch Community is for freelancers, business owners, and fellow agencies looking to grow their business by plugging into a community of top digital talent. It is for those who believe in the power of collaboration to go further, faster.
What are the

benefits?
There are multiple benefits when you join and engage with the Etch Community.
Extra revenue
For any work you refer to Etch, you will receive a 5% commission of the value of the project won by Etch. Perhaps it's a job you're unable to deliver yourself, or you simply don't have the capacity - the more leads you generate, which we win, the more money you make.
More work
Etch, and our partner network, are always looking for highly skilled digital talent to help deliver outstanding work for our most loved clients. Joining the Etch Community allows you to work with some of the biggest and best brands across many sectors.
Learning opportunities
Whether personal, professional, or business growth, joining the Etch Community gives you multiple opportunities to learn and develop through exclusive events and content. Deliver the best work of your career, surrounded by the industry's best talent.
How can you
join the community

?

There are three main ways to partner with Etch, depending on your levels of commitment and circumstances.
Refer leads
Our entry point for anyone looking to develop a partnership with Etch. For every lead you refer which turns into paid work for Etch, you will earn a 5% commission of the total value of the work or project won.
Learn More
Access opportunities
The next level up gives you access to both working opportunities, as well as access to the wider Etch Community. Work with a collective of the industry's best talent, looking to grow together.
Enquire Now
Join Big Radical
A new radical operating system for the self-employed. Big Radical is redefining the future of self-employment, enabling you to deliver the best work of your career, thanks to a powerful partnership for future-thinking contractors and freelancers looking for the next level.
Discover more
Community spotlight.
We're proud to work with every member of the Etch Community. Here is a snapshot of the freelancers, agencies and small businesses who are benefiting and growing from being part of the Etch community.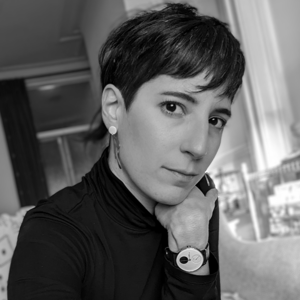 The Etch Spotlight series is your chance to meet the hugely talented people who make up the Etch Community. In this Spotlight, we meet Lilian Tula, Design Consultant and Founder of Goody Please.
Read More
Latest opportunities.
We're always looking for top digital talent to work with. And we've always got great projects to be working on. We don't have any opportunities yet but feel free to get in touch below.